INTRODUCING THE CLASSIC SCRAMBLE CLUB
The Classic Scramble Club promotes the racing of vintage motorcycles that were manufactured during the golden era of classic scrambling (i.e. 1977 or earlier). Our scramble meetings are held on natural terrain tracks in the southwest of Victoria including The Classic Scramble Club's permanent track at Lismore. If you are interested in Classic Motocross come along to one of our meetings and find out what it is all about.
RIDING WITH THE CLASSIC SCRAMBLE CLUB
To ride you will need a pre-60, pre-70, pre-75 or pre-78 motocross bike and appropriate riding gear. Your vintage motorcycle must be capable of passing scrutineering, comply with Motorcycling Australia safety regulations and be faithful to the original manufacturer's specifications for the year. Being a member of Ambulance Victoria is mandatory for all events.
An easy way to start may be to enter one of our Ride Day practice events. Normally there are two meetings around March and April. For Ride Days a Motorcycling Australia licence and club membership may not be necessary (note, unlicensed riders are not covered by the Motorcycling Australia accident insurance and the entry fee is slightly higher if you are not a member of the Classic Scramble Club).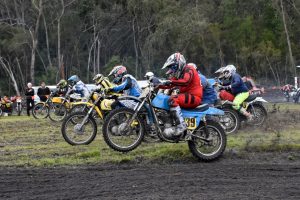 To enter a Classic Scramble Club race meeting you will need to be a member of The Classic Scramble Club (one-day licenses are available) and have a Motorcycling Australia national race licence (one-day licenses are available).
To enter an event, refer to The Classic Scramble Club Facebook page and The CSC website for upcoming events, happy riding.